The book that started the 'deep' movement with the Enneagram.
DEEP COACHING: Using the Enneagram as a Catalyst for Profound Change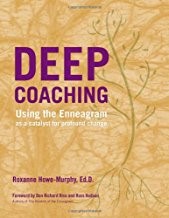 Learn about the most robust system for self-awareness and awakening and how it can impact your coaching.
In this groundbreaking work, Deep Coaching is introduced as the integration of core psychological and spiritual dynamics to help individuals experience deep shifts and sustainable, positive life changes.
Based on the author's extensive use of the Enneagram, and building on the groundbreaking work of the late Don Richard Riso and Russ Hudson, this book demonstrates the many ways the Enneagram can be used as a profound system for coaching.
"We believe that this book will lay the groundwork for the growth and appreciation of both the Enneagram and coaching, showing the way toward greater excellence in both fields. The author, Roxanne Howe-Murphy, EdD, is uniquely suited, in both background and the depth of her personal development, to the task of synthesis and creation that she has set for herself."
— Excerpted from the Foreword by Don Richard Riso and Russ Hudson
Authors of the best-selling book Wisdom of the Enneagram
Nine Leading Edge Ideas from Deep Coaching
Each of the nine dominant Enneagram types has its own version of an internal (and hidden) architectural blueprint which, unknown to us, shapes our internal dialogue, our perception of self, of others, and of our relationship to the world. Here we (or our clients) cannot be aware of real choices.
We come to the stunning realization that we really are NOT who we think we are, (thus, our clients are NOT who they think they are) and therein, is a basis of powerful coaching.
When we awaken to the illusion created by the blueprint of the personality, we come into more authentic contact with that which is real, enduring and Essential within.
The easiest thing in the world is to live on automatic. Our most exciting journey is that of awakening.
When we make a U-Turn™ and go in the opposite direction of what our ego wants us to do, we discover amazing freedom and relief.
The Enneagram will support your clients in understanding that there is nothing "wrong" with them.
One of your greatest gifts as a coach is to help your clients 'disidentify' with their strong sense of attachment to a particular way of seeing themselves.
When we invite in what we have resisted in the past, transformation occurs.
The Enneagram is a map of love in action.