The Intersection of Our Finite Nature and Infinite Nature
It is our most profound and pervasive spiritual question: the relationship between the human condition and the fundamental interconnectedness of all — that is, the relationship between our Finite and Infinite dimensions.
The Backdrop of EnneaCrossings™: The Evolutionary Urge
We are at a stage in the evolution on this planet where the timeless, eternal, infinite dimension of consciousness is penetrating the human psyche in a more deeply experienced way. Maybe you're not sure exactly what you are experiencing but are wondering 'what in the heck is going on?'
There is a gravitational force attracting us to a more real and present relationship with our human nature, others, and the planet. But that can feel difficult when there's such a high level of uncertainty in the air. Simultaneously, the urge to realize our Infinite nature is noticeably more pervasive.
This is what evolution feels like — there's just not a clear roadmap for how to navigate it. As the mostly Western adherence to a dualistic perspective (e.g. either/or; us/them; black/white; this/not that) has reached its limits as evidenced by all the forms of struggle and division, we are being helped to open our consciousness through the insistency of the inner urge for union.
A Brief Introduction to the EnneaCrossings™ Symbol
The discovery* of what I call the EnneaCrossings™ symbol and the teaching coming out of it seems to be sourced in this evolutionary pull toward recognizing the ultimate Reality of our inherent interconnectedness. Essentially, this emerging body of work integrates two powerful symbols of awakening/higher consciousness, the Enneagram and the cross-cultural cross, both approached from a nondogmatic, experiential orientation.
Across centuries and cultures, the symbol of two intersecting lines, a cross, has carried diverse sacred meanings that include receiving guidance, spiritual sustenance or inspiration, finding 'home,' and death of the ego followed by rebirth. Rising to the level of archetype in our common human psyche, it is said: "life has a cruciform pattern." (Richard Rohr)  Here, we experience the contradictions, paradoxes, and push and pull from both dimensions of life, along with occasional reconciliations that characterize what it means to be fully human. But the word 'crossings' is even more relevant, as it acknowledges that we are not static — but as part of the fluidity of life, we are also in movement — away from and toward our integrated, whole and interconnected self.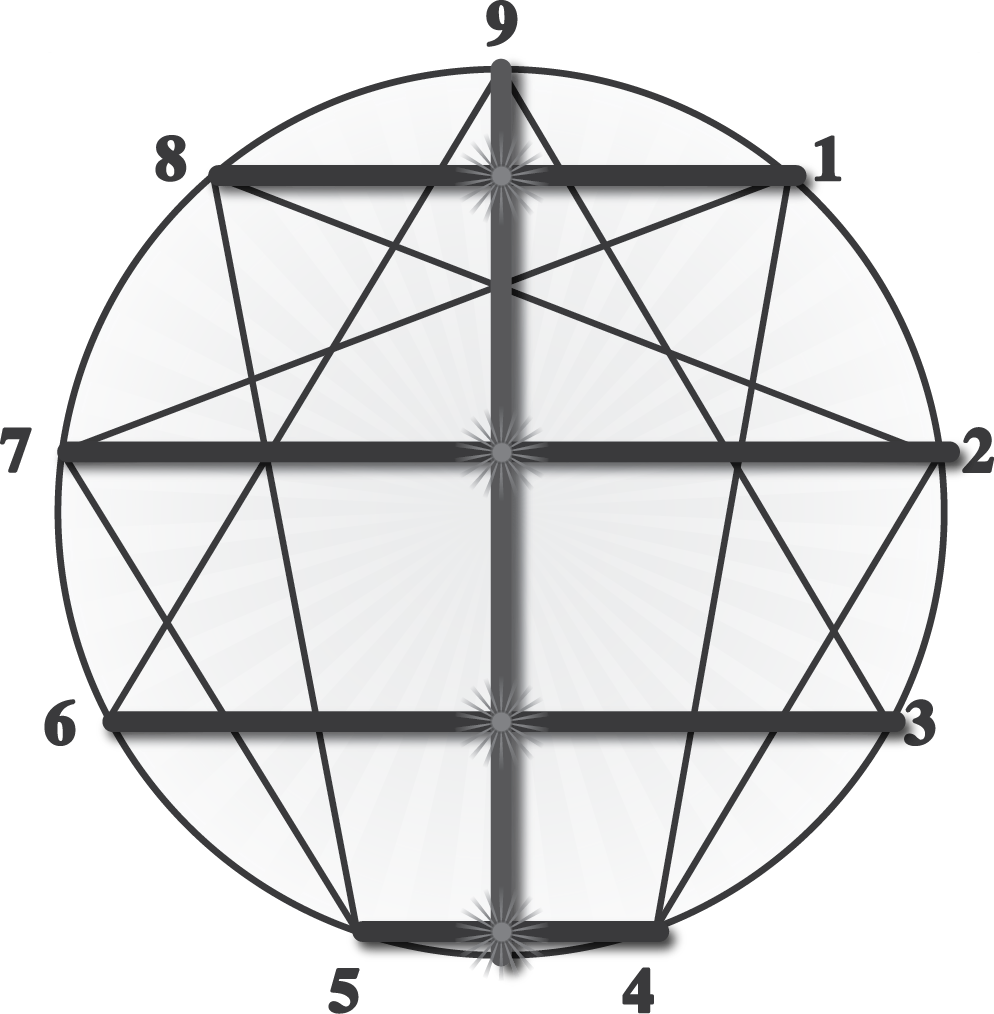 The EnneaCrossings™ symbol includes four specific intersections of our Finite life, represented by horizontal lines, with our eternal, Infinite nature, represented by the vertical line. Each horizontal line represents a generally hidden, inner dynamic that has a profound impact on our lives. Working with the relationship between these dimensions that are inherent to our full nature deeply engages our heart.
The symbol provides a map for investigating and inquiring into what keeps us out of contact with the reality of the interconnectedness and real knowing of our interconnectedness with everything.
Engaging with this body of work involves the process of surrendering to what is truer and more expansive than our habitual ways of living. We become partners in this process, doing our part to create conditions that support transformative moments and orienting ourselves in the direction of healing and love. Along the way, we discover that the contradictions between the horizontal way of being and the vertical way of being become reconciled. We do not have one or the other. We are both, and more.
Roxanne Howe-Murphy offers 'Beyond Duality' retreats that are based on EnneaCrossings™. This material is the subject of her next book to be published in 2023. Sign up on my mailing list to learn about future offerings based on EnneaCrossings™.

*In 2012, my colleague Diana Redmond and I 'discovered' this symbol while preparing for a presentation to the International Enneagram Association conference. Since then, I've been leading retreats on this work, and have presented its ongoing development at the same international conference.